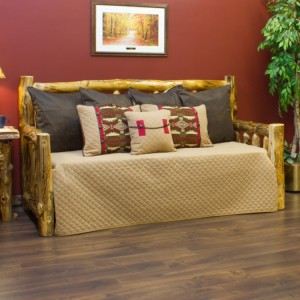 Today we are going to talk about the assembly of log furniture and rustic furniture.  We receive quite a few emails and calls from customers and potential customers who wonder or worry about how much assembly may be required with the rustic furniture they are ordering.  Hopefully this blog will help to clear up some of the questions that may have arisen in your mind. Assembly and the amount of assembly will vary between our rustic furniture collections and between other log furniture manufacturer collections.  There will be a lot of similarities as well though so I will concentrate on the similarities and group everything together as much as possible. First, let's start with the question, 'What tools will I need to assemble my log furniture with?'  The answer to this is just your basic household tools; a rubber mallet can come in handy, a screwdriver or drill and a basic socket set is all that is needed for assembling most of our log furniture.
Let's begin with log beds and rustic beds.
Our rustic log beds will generally come with the headboard fully assembled and the footboard fully assembled.  All that is left to do is to attach the frame to the headboard and footboard.  Our rustic beds can typically be assembled within 20 minutes by those who have never assembled a log bed before. Our log canopy beds will be the same except you will also need to attach the side canopy rails as well.  Rustic log canopy beds are much easier to assemble with 2 people.  Give yourself about 30 minutes to assemble your rustic canopy bed. Our log daybeds will generally come with 4 main sections, the back is generally one assembled piece as well as each of the sides.  Simply connect these three pieces together, attach the frame for the mattress and you are done.  As with our standard log beds assembly will take around 20 minutes. Our log bunk beds will arrive partially assembled as well.  The headboard and footboard ends are assembled, you just need to attach the side rails and safety rails.  As with our log canopy beds assembly of our log bunk beds are much easier with 2 people.  Give yourself an hour and a half for the assembly of your first log bunk bed.  You can cut the time in half on your second bunk bed. Assembly is fairly easy for the most part as you can see. Our rustic log beds are dry fitted in the factory to ensure all parts will fit correctly as well.  This is just another quality control step that we like to take.
et's continue on with rustic dressers, rustic chests, log night stands and rustic wardrobes and armoires.
Our rustic casegood furniture will generally come either fully assembled or 90% assembled.  All that may need to be done is to attach the log handles.  These may be shipped unattached so they are less likely to be snagged shipping.  In the case that the handles are not attached you will find that the holes are predrilled and the screws are included for attaching the handles.
Let's move along to rustic dining room furniture.
Our rustic log dining tables will generally arrive either as one piece or as two main pieces.  When shipped in two pieces all that needs to be done is to attach the table top to the table base. Most of our log dining chairs and rustic bar stools also generally arrive fully assembled. ur log buffets and rustic cabinets will ship assembled like our rustic dressers.  The only thing that may need to be done is to attach the log handles.
We now move down the hallway to the rustic living room with log sofas, log loveseats, rustic lounge chairs, and log coffee tables.
Most of our rustic log coffee tables and log end tables will ship fully assembled.  All you have left to do is to place them where you want them and then stare at the rustic natural beauty. Most of our rustic log sofas, loveseats and chairs will arrive to you fully assembled when the pieces are able to fit through a standard 36″ door.  The exception to this is if the rustic living room furniture pieces are too large to fit through a 36″ wide door then we will ship the pieces partially assembled.  Assembly may take 15 – 20 minutes in these cases.
Budget/Economical Log Furniture
Our budget log furniture will need a bit more assembly.  These pieces are typically shipped partially assembled so that they can ship via UPS or FedEx.  These pieces will be from the Rustic Natural Cedar, Rustic Lakeland, and Old Adirondack collections.  These will arrive in partially assembled sections that will go together very quickly.  The log beds may need to have the legs attached to the headboard and footboard sections, the rustic night tables and nightstands will need to be partially assembled, dining chairs will be partially assembled and will need about 15 minutes of assembly. As you can see it won't take long at all for you to sit back and relax in your new log furniture! This blog article covered a broad range of our rustic furniture so if you have any questions regarding a specific piece of log furniture you are always more than welcome to contact us.